Certifications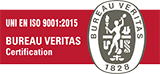 Antolini Mezzi Cingolati has been certified as a company in accordance with the new version of the
UNI EN ISO 9001
, with the aim of managing all corporate processes in an organized manner.
Each individual step of production goes through quality control, which authorizes performance of the next steps to be done only once the tests performed have been passed.
We guarantee full traceability of the product provided, with delivery of the Certificate of Compliance of the material and all documentation required by compulsory regulations.